Baseball Outfield Fence offers the latest in baseball outfield fence products at the lowest prices.
Portable Dugouts and Shelters
Give your team a shelter from the rain, wind and sun wherever you go.
Is your team always on the go? Our portable shelters and dugouts protect players from rain, wind and harmful UV sunlight. Perfect for any sport, these fabric shelters are easy to set up and take down. The roof and sides are made of waterproof vinyl that breathes and sheds water, and the aluminum frame will last for years! Ideal for temporary applications where lots of travel is involved, but also great for permanent or seasonal setups. Choose a 15' long shelter that fits two benches, or a 23' long shelter that fits three benches.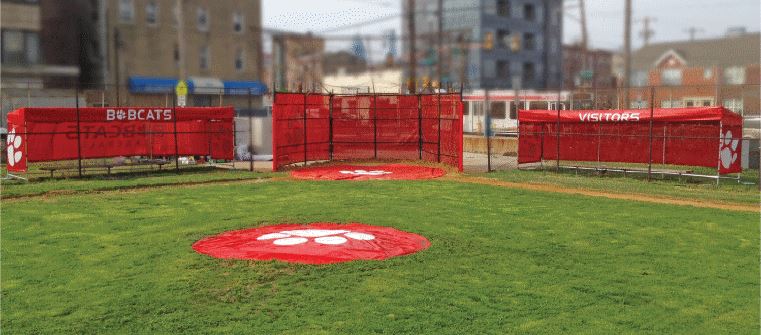 Features:
• Solid vinyl, waterproof roof and tight mesh sidewalls that breathe and shed water
• Weighted breakaway back panel reduces wind load, prevents damage and keeps dugout from flipping
• Roof and wall panel attach with bungee balls and velcro web loops, allowing for quick set-up and take-down
• Aluminum alloy frame is light enough to carry or cart from field to field and includes weights for stabilization
• Includes team name on roof front (up to 14 one color letters)
• Custom printing on wall panels is available for mascot, logo or sponsors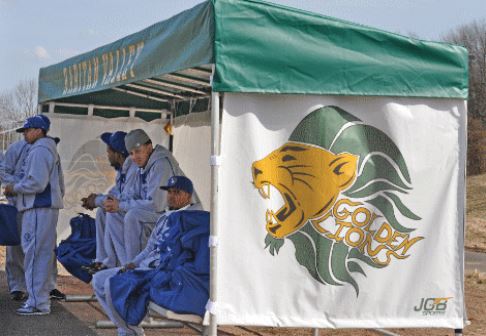 Portable Dugout Colors
Solid Vinyl Roof Colors

Maple Green, Royal Blue, Red, Navy Blue, Gray, Maroon, Sky Blue, Purple, Yellow, White, Tan, Black, Kelly Green, Orange

Mesh Side Panel Colors

Forest Green, Royal Blue, Black, Red, Navy Blue, Orange, Maroon, Carolina Blue, Brown, Tan, Purple, Kelly Green, White, Gray, Yellow