Baseball Outfield Fence offers the latest in baseball outfield fence products at the lowest prices.
Above-Ground Grand Slam Fence™ Specifications
Find the Above-Ground kit that's perfect for your needs.
Get a soft, lightweight, easy to handle portable fence. Above-Ground Grand Slam lets you set up your fence in minutes - no digging required!
Features:
• Fence height: 4'
• Available Colors: Blue, Red, Green - each with a yellow top safety marker
• The above ground design means you don't have to dig holes for poles!
• Each Grand Slam Fence kit includes high-performance, furniture-grade PVC poles
• Choose the Standard Kit with poles at 10' intervals
• Optional: Choose poles at 5' intervals for better wind resistance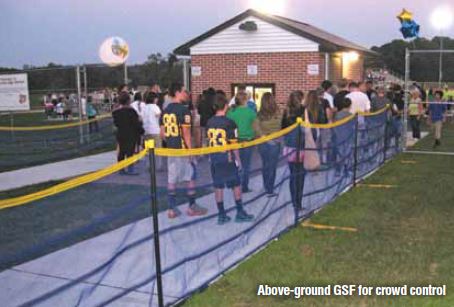 Above-Ground Grand Slam Fencing Kits

Fence
Length

Colors

Poles
(Standard 10'
Intervals)

Weighted Base Assemblies

Tape Measure Included

300' HR Distance
One-Piece

471'

Red, Green, Blue

49

49

Yes

200' HR Distance
One-piece

314'

Red, Green, Blue

33

33

Yes

150' Standard Length

150'

Red, Green, Blue

16

16

--

100' Standard Length

100'

Red, Green, Blue

11

11

--

50' Standard Length

50'

Red, Green, Blue

6

6

--