Baseball Outfield Fence offers the latest in baseball outfield fence products at the lowest prices.
Grand Slam® Standard Design-Your-Own Kits
Create a field that meets your needs!
If you're looking to add a portable fence to your field but are unsure of the right size, we can help! To calculate the amount of fencing needed from foul-pole to foul-pole, multiply your desired home run distance by 1.57.
Example: 200' desired home run distance x 1.57 = 314' of fence needed
Recommendations
For 300' home run distance (usually used in baseball) you can use 500' of fencing. You can combine kits to get the desired length.
Recommended Kits:
• 2 each of 150' kits
• 2 each of 100' kits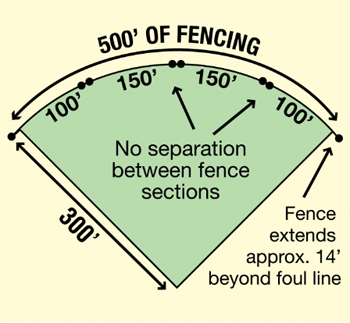 For 200' home run distance (softball and little league) you need a minimum of 314' of fencing.
Recommended Kits:
• 1 each 150' fence kit
• 1 each 150' fence kit