Baseball Outfield Fence offers the latest in baseball outfield fence products at the lowest prices.
EnviroSafe® Ball Pits
The safest, softest foam ball pits.
Are you looking for a safe ball pit for your child? With EnviroSafe ball pits, your child will learn and play inside a soft, portable sensory environment. Our ball pits are constructed with 6" Soft IFD 50 foam and are covered in 18 oz phthalate-free, flame resistant, antibacterial PVC-coated material. The inside and outside corners of our pits feature 4" velcro that secures the structure and allows for easy set up and take down. The floor is made out of durable, tear-resistant 18oz vinyl.
We manufacture gymnastic mats, wall padding and stadium padding out of the same material - now we're making ball pit playpens out of the same amazing foam! Need a special size, or a shape other than a square or rectangle? We can custom create any foam ball pool.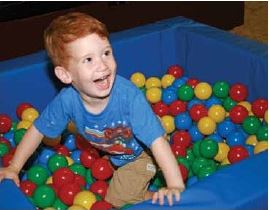 EnviroSafe Ball Pit Specifications
Ball Pit Size

Number of Balls Needed

4' x 4' x 2'

2,500

4' x 6' x 2'

3,500

6' x 6' x 2'

5,000