Baseball Outfield Fence offers the latest in baseball outfield fence products at the lowest prices.
FieldSaver® Track Covers
Need covers for your track? Check out our high-quality weighted covers.
Weighted Jump Pit Covers
Our jump pit covers feature weighting along the entire perimeter. No sandbags or stakes are needed to keep your cover in place! All weighted jump pit covers include a 3-year warranty. Choose solid vinyl, polyethylene, or heavy-duty ArmorMesh.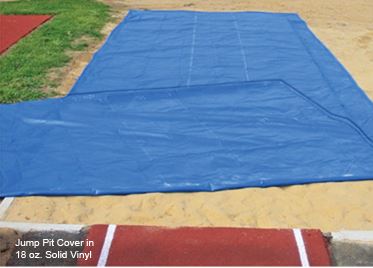 Weighted Jump Pit Cover Specifications
Standard Sizes

12' x 28', 12' x 30', 12' x 32', and 12' x 34'

Fabric

18 oz Solid Vinyl

14 oz ArmorMesh

6 oz Polyethylene

Properties

Waterproof

Heavy-duty allows for water penetration and keeps out debris

Waterproof/Lightweight

Stock Colors

Maple Green, Royal Blue, Red, Navy Blue, Gray, Maroon, Sky Blue, Purple, Yellow, White, Tan, Black, Kelly Green, Orange

Dark Green, Royal Blue, Red, Light Gray, Kelly Green, Maroon, Navy Blue, Black, Purple, Orange, Carolina Blue, Yellow, White

Silver/White
Weighted Track Protectors
Your track will stay smooth with the ultimate track protector. Our weighted track protectors by FieldSaver feature a binded hem and weighted vinyl that lies flat and stays in place. Cleat-resistant to last!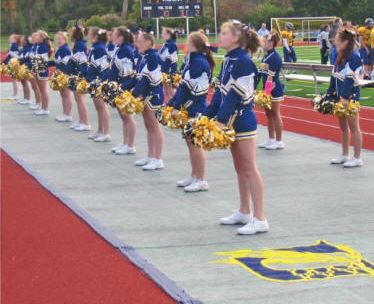 Track Protector Specifications
Fabric

Non-woven polypropylene

Top Surface

Heat tempered retains durability, even from cleats

Bottom Surface

Heat tempered, loose fibers won't cling to track

Blanket Color

Heather gray to reflect heat

Binding

Hemmed, weighted vinyl lies flat and stays in place

Binding Color

Maple Green, Royal Blue, Red, Navy Blue, Gray, Maroon, Sky Blue, Purple, Yellow, White, Tan, Black, Kelly Green, Orange

Weights

15 oz.

12 oz.

Warranty

30 months

12 months

Sizes

7' x 30'
7' x 40'
7' x 50'

14' x 30'
14' x 40'
14' x 50'
14' x 75'
14' x 100'
14' x 125'
14' x 150'

6' x 25'
6' x 35'
6' x 45'

12' x 25'
12' x 35'
12' x 45'
12' x 60'
12' x 75'