Baseball Outfield Fence offers the latest in baseball outfield fence products at the lowest prices.
Safety Top Cap® Specifications
Here's the rundown on our Safety Top Cap fence topper.
Manufactured using HDPE plastic with UV stabilizers, Safety Top Cap is designed to endure high impact, resist the harmful effects of the sun, and withstand other severe weather conditions. Included hog rings reduce the chance of vandalism and permanently attach the cap to the fence.
• Size: 5 1/2" H x 2 3/4" W x 8' L
• Coverage per bag: 40 linear feet
• Hog Rings per bag: 15
Installation: Simply snap Safety Top Cap over the top of the fence and lock to the wire mesh with included steel hog-rings through the three pre-drilled holes on each piece.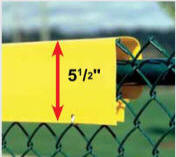 Safety Top Cap is 5 1/2" high, providing a clear home run marker.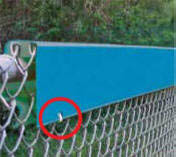 Permantly attach Safety Top Cap to your fence with included hog rings.