Baseball Outfield Fence offers the latest in baseball outfield fence products at the lowest prices.
Gym Floor Cover Accessories
Tape, tape dispensers, mobile storage racks and more for GymGuard® floor covers.
To easily lay down, roll up, and store your gym floor cover, consider purchasing a mobile storage rack. GymGuard mobile storage racks make it possible for two people to roll out, roll up, and transport your floor covers. Racks are available in 6, 8, and 10-roller models.
Standard Mobile Storage Racks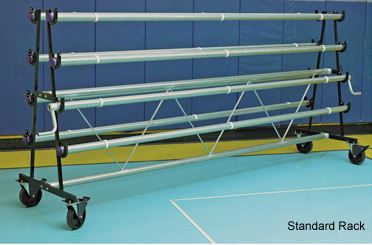 Features:
• Four 8" non-marking urethane, swivel-type wheels can support up to 3,600 pounds of cover and rack
• Yellow safety bar and alumimum safety collars prevent the roller from popping out, side-to-side movement, and accidental finger pinching
• Blue vinyl end caps offer protection from sharp edges
• Safety brake placement and design make it easy to lock all wheels in place
• Rollers are 14-gauge galvanized steel and the entire frame is mig-welded - all steel construction
• 20-year warranty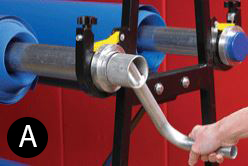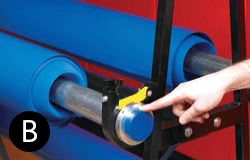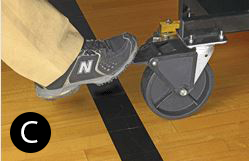 A. Hand crank
B. Aluminum safety collar, yellow security bar, and blue vinyl end cap
C. 8" non-marking, urethane swivel wheel with safety brake
Included with All Racks:
• New rotating grip makes rolling up easier
• Three fabric clips per roller for securing cover to roller
• Instructions for assembly and operation
Premier Mobile Storage Racks
The premier GymGuard rack is an upgraded version of the standard rack that includes even more safety features. Six 8" diameter wheels reduce the risk of damage to floor boards by distributing weight load and allowing for easier rack movement. Safety leg extenders with two 3" wheels provide extra stability. Premier racks also feature storage trays to hold extra rolls of tape or the Power Winder. Includes a 20-year warranty.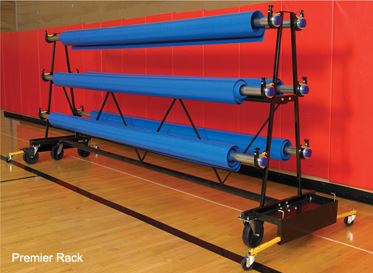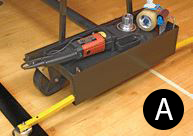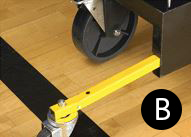 A. Storage tray
B. 8" wheel with safety leg extender
Storage Rack Specifications
Standard Rack Size

34" W x 12' 6" L x 67" H for 10' wide covers

Premier Rack Size

34" W x 14' 2.25" L x 67" H for 10' wide covers

Mini Rack Size

34" W x 6' 4" L x 67" H for 5' wide covers

Capacity

2,800 lbs of GymGuard fabric

Rollers

2.5" diameter, 12 gauge steel, lockable to prevent accidental unwinding

Frame

Mig-welded, all-steel construction

Brackets

Steel with Delrin roller bearings

Wheels

8" non-marking urethane swivel types, all with foot-locks
Accessories for GymGuard® Covers and Racks
Bush Assembly
Our brush assembly attaches to your rack and sweeps each 10' cover section clean while winding it up. The durable nylon bristles are contained in a sturdy steel housing.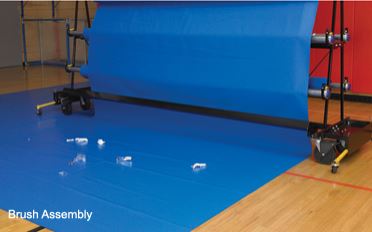 Vinyl Storage Rack Cover
Prevent dust from entering your covers with a vinyl cover for your storage rack. TuffPrint lettering is available to custom it with yuor school's name, mascot or slogan.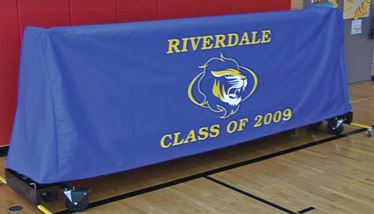 Power Winder
Wind up your GymGuard floor cover in a jiffy with the power winder. The power winder eliminates hand cranking!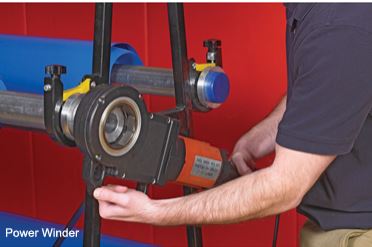 Power Winder Specifications
Motor

Universal 115V

Switch

Heavy duty paddle type with safe lock-off switch, separate forward and reverse switch

Gear Hand

Spur and worm gear reduction drive, aluminum housing

Body and Handle

Durable heavy duty fiberglass-reinforced  plastic

Spindle Speed

32 RPM (no load)

Length

20"
Tape Dispensers
Tape down your GymGuard flooring to ensure no one trips. Our tape and tape dispensers secure overlaps and perimeter edges, and leave no residue on the floor or your cover. We offer traditional hand-held dispensers and ergonomic walk-behind dispensers for convenient taping.